NOTICE

Temporarily closed until 6th April 2021
MUSEUM REOPENING AFTER LOCKDOWN
OPENING HOURS AND TICKET PRICE
Tours of the Museum and underground tours will be subject to new national regulations against the spread of COVID-19.
New measures:
Advance booking required
Visitors are required to book their visits in advance by calling +39 0781 62727. The service is available in the same opening hours as the ticket office (10.00am – 05.00pm until 20 June; 10.00am – 06.00 pm from 21 June).
Guided tours of the underground areas may include up to 8 participants to respect social distancing (1-metre distance); our guides have a microphone. Tours of the exhibition area take place without a guide, but always in compliance with social-distancing measures (1-metre minimum distance).
Underground tour schedule:
Until 20 June: Tuesday to Sunday, 10.15am – 11.30am – 12.45pm – 02.45pm – 04.00pm – 05.15pm
From 21 June to 20 September: every day, 10.15am – 11.30am – 12.45pm – 03.00pm – 04.30pm – 05.45pm
Hygiene and personal protective equipment
Access to the Museum is allowed only to people wearing protective masks (visitors should wear masks without valves).
To access the ticket office, the café area and the bookshop, visitors are also required to use a hand sanitizer (available inside). Several hand hygiene stations have been installed within the museum complex.
For underground tours visitors are required to use (as was the case before the emergency) disposable caps; helmets are always sanitised after each use.
Payments
Visitors are kindly asked to pay by debit/credit card or through Mobile Payment systems. Visitors are kindly asked to pay by debit/credit card or through Mobile Payment systems. The museum does not encourage cash transactions, in compliance with current regulations.
N.B. Please note that the museum is not equipped with a cloakroom, therefore visitors are asked to keep their coats, bags, backpacks, etc. with them during the visit. per tutta la durata della visita. For the same reason, the museum does not provide a luggage storage service for your suitcases and other travel bags, which are not allowed inside during the visit.
---
◊
OPENING HOURS
NOTICE Temporarily closed until 6th April 2021
From 21 June to 20 September: every day from 10:00am to 07:00pm
Ticket office closes at 6.00pm
From 21 September to 20 June: Tuesday to Sunday, from 10:00am to 6:00pm
Ticket office closes at 5.00pm
Closed on Mondays (business days), Christmas and New Year. On 24 and 31 December open from 10.00am to 01.00pm
The Museum is open all day.

Please book in advance your underground tour in English or French: Ph +39 0781 62727. Tour in the museum is self-guided.

◊
VISIT
As part of your visit, you will take a tour of the underground areas, the winch room and the lamp room, which houses a permanent exhibition on the history of coal, the mine and the town of Carbonia. As for the underground tour and the winch room, we only offer guided tours; a guided tour lasts about an hour and is available in Italian, English and French. The lamp room and any temporary exhibitions are self-guided tours.
The underground area is partially accessible to people with disabilities, who have free access to museum areas.
Tips for visiting our museum: the Museo del Carbone includes both indoor, outdoor and underground areas. Therefore, we recommend wearing comfortable clothing and sports shoes, or even hiking shoes.
N.B. Dogs and pets in general are allowed inside the lamp room (on a leash and with a muzzle or inside pet carriers), but not in the underground area.
◊
PRICES
The ticket price includes a self-guided tour of the lamp room and a guided tour of the winch room and the underground areas.
Full price ticket: € 8.00
Reduced-price ticket: € 6.00
Reduced-price tickets are available to:
– individual visitors aged between 6 and 12 years and over 65
– groups and school groups (see details in the next paragraph)
– Carta Giovani holders
– Giovani Euro<26 (European Youth) card holders
– TCI membership card holders
– ACI membership and SYC! (Show your card!) holders
– Sardinia CRAL membership card holders
– Other membership card holders
– Other membership card holders
Children under 6 years: free admission.
Pass: € 15.00
Valid for 60 days a pass gives you free access (one visit) to the following historic sites and museums in Carbonia: Museo del Carbone, "E.A. Martel" Paleontological Museum, Monte Sirai Archaeological Park, Villa Sulcis Archaeological Museum.
GROUPS AND SCHOOL GROUPS
The museum is available for visits all year round, with advance reservation and according to the museum opening hours. Guided tours last about 1 hour.
Different tours are available according to the specific level of education (primary, middle or high schools, universities, specialist schools), as well as workshops and specific educational activities in collaboration with the schools. ⇒Activities for schools
Reduced-price tickets are available as follows:
– groups of at least 25 people:€ 6.00
– school groups: € 5.00
Groups:
1 free ticket every 25 people
School groups:
2 Free tickets per class of students (for teachers)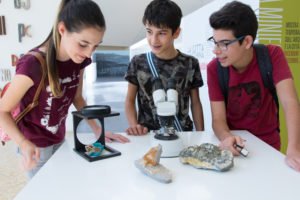 Miniere Sardegna