Location
The Museo del Carbone is located within the former Serbariu coal mining area.
Museo del Carbone
Centro Italiano della Cultura del Carbone
Grande Miniera di Serbariu
09013 Carbonia SU
Sardinia mines
Museo del Carbone
HOW TO REACH US
Sardinia mines



◊
BY PLANE
Cagliari-Elmas, Alghero-Fertilia and Olbia-Costa Smeralda airports are connected to several locations in the rest of Italy and abroad by daily flights. Bus and car rental services are available at all three airports; Cagliari airport is also connected to the railway network. Depending on the vehicle used and on your destination airport, follow the directions provided in the "By car" or "By train or coach" sections.
◊
BY SEA
Daily connections – offered by different companies – are available from Genoa, Livorno, Civitavecchia, Naples and some ports in Sicily to Cagliari, Olbia/Golfo Aranci and Porto Torres. Once you reach your destination port in Sardinia, follow the directions provided in the "By car" or "By train or coach" sections.
◊
BY TRAIN OR COACH
You can find information on connections with locations in Sardinia and/or contact information on Trenitalia (FS Italiane) website and on the websites of regional and local transport companies. From Cagliari airport the reference railway station is Elmas Airport; Carbonia railway station is Carbonia Serbariu. Carbonia Serbariu railway station is an intermodal passenger transport hub (coaches and minibuses), and is located about 800 meters from the Museo del Carbone.
◊
BY CAR
From Cagliari:
Take Strada Statale 130 toward Iglesias. Your exit – Villamassargia/Carbonia – is 44 km away. A Villamassargia, alla rotonda girare a destra in direzione Carbonia. Drive in the same direction following the signs to Carbonia; at Carbonia-Sirai crossroad turn left along Strada Statale 126 toward S. Antioco. At the first roundabout, follow the signs to Carbonia until you reach the second roundabout; turn right following the signs to the Grande Miniera di Serbariu.
From Porto Torres, Olbia/Golfo Aranci and Alghero: Take Strada Statale 131 toward Cagliari. After Sanluri, head toward Samassi-Vallermosa. Take Strada Statale 130 toward Iglesias, then follow the directions above from Cagliari.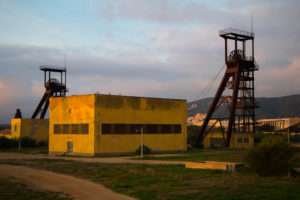 Sardinia mines